When we bought our current house we were DINKS (double income no kids) not to be mistaken with a similar word which has a COMPLETELY different meaning….anyway the house is on two levels with living, kitchen, master bedroom and a tiny office on the top floor and main bathroom plus bedrooms on ground floor… great house for a couple but took a little juggling to suit a family.
After trying years for a baby, enduring IVF, surgery and lots of tears it felt like it would never happen, but every now and then I dared to dream that one day the tiny office would become a beautiful nursery. In 2012 that dream became a reality and project nursery began. As our journey to parenthood and pregnancy had been long and hard I wanted the room to be a haven, a place of serenity, peace and beauty (clearly I hadn't given birth before and was unaware that the words peace and newborn don't belong in the same sentence!) anyway that was the plan and it is a beautiful space to sit and soak up the serenity and it always makes me smile.
Our dream came true!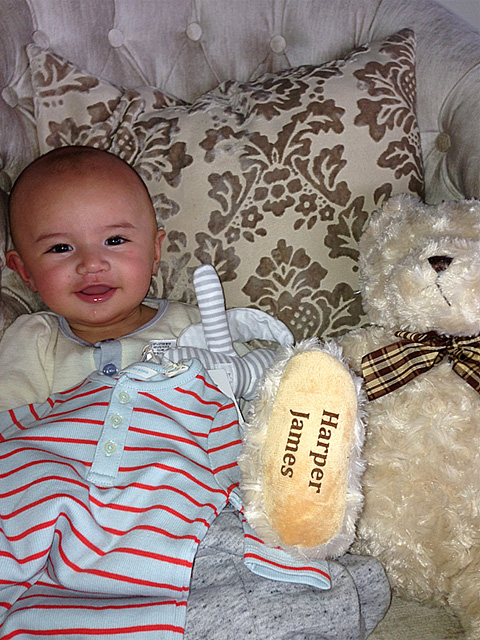 The Inspiration Piece
Designers often talk about what inspired their space well this little vintage purse was my piece of inspiration. I picked it up in a second hand shop about 20 years ago as a broke student but still managed to scrape a few dollars together for this little lovely. I love the soft colour palette of gold, apricot, peach, soft yellow and a little hit of coral and I'd always thought it would make a beautiful room palette.
Vintage Purse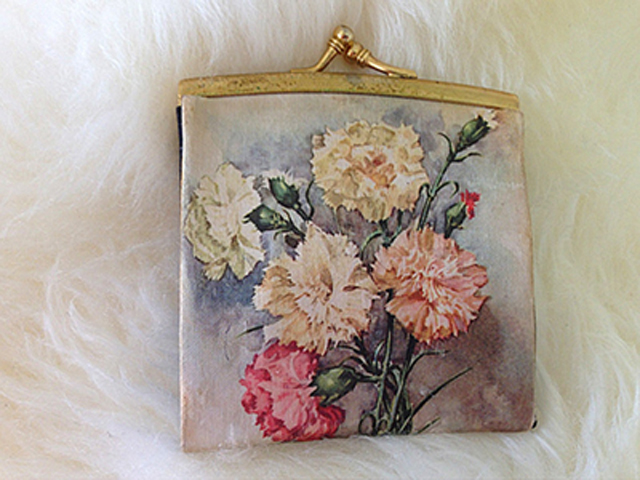 The Space
Challenged with a tiny 2.1m x 2.1m space (which is not much bigger than my husband squared) and without any built in storage, called for some careful planning and creative measures.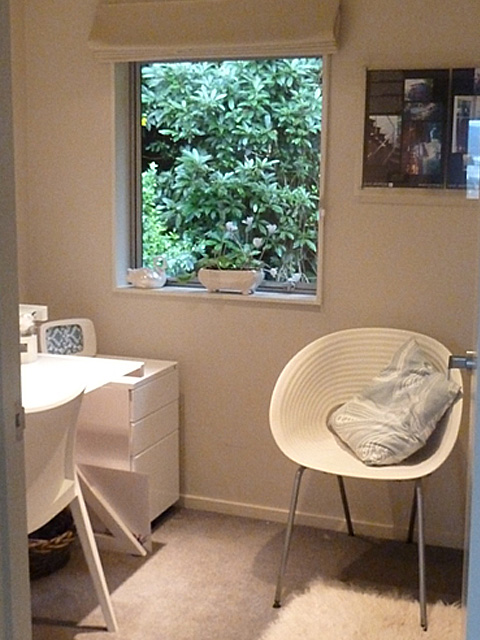 When you're designing with a small space it's a challenge to combine functionality, comfort and aesthetics. I managed to fit everything I needed into my compact nursery and still keep the pretty factor, here's how…
Function – The vintage drawers I purchased and repainted were chosen for both their style and ability to hold a lot of stuff! With deep drawers and height on their side they make good use of vertical space and if you pop a change mat on top BOOM they double as a change table. The oval bassinet on wheels is ideal for tucking into small, awkward spaces and is easily maneuvered both around and in and out of the room another bonus is it later converts to a cot and a bed.
An ottoman placed in the hallway adds extra seating for spectator's, doubles as a footstool when nursing and offers a handy space to fold washing or pack a nappy bag. The floating shelves make use of vertical space and provide extra storage along with aesthetic value. The hanging laundry bag keeps the floor space clear while the extra hooks provide space for coats and hats. A basket which easily slides under the nursing and reading chair holds blankets, books and soft toys.
The Nursery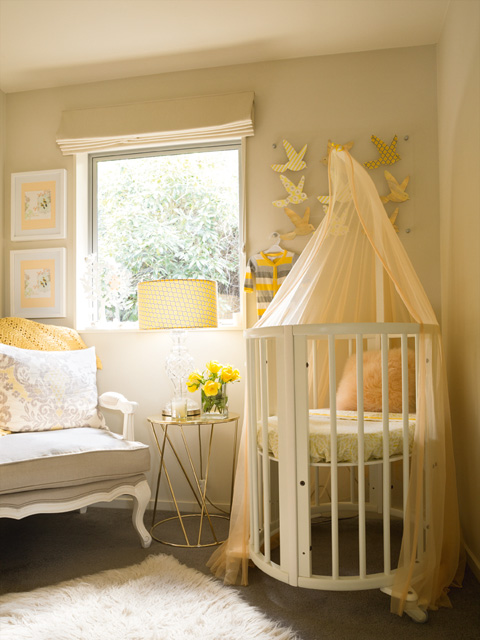 Style – I showed you my inspiration piece and talked about the serene feel I wanted for the nursery. True to my style I also wanted something that mixed modern, vintage, sleek and ornate and I needed the nursery to be suitable for a boy or girl. I chose the gold table, white frames and contemporary bassinet and lampshade for my sleek modern pieces, the chair, mirror, vintage lamp and drawers as my vintage and ornate pieces.
The colour palette was extensive consisting of yellow, coral, grey, orange, caramel, cream and white, however as the colours were tonal and a layering effect was used it allowed them to work together. Layering colour adds interest to a space without causing a sensory overload.
I layered a number of shades of yellow including a mustard lampshade and laundry bag a butterscotch crotched blanket, and sunny yellow sheets and art work. Soft apricot and various shades of coral and orange where used in art and accessories such as the cushion and bassinet drape. A combination of patterns was also used from stripes to spots to a trellis print and again works because of the layering effect in pattern scale.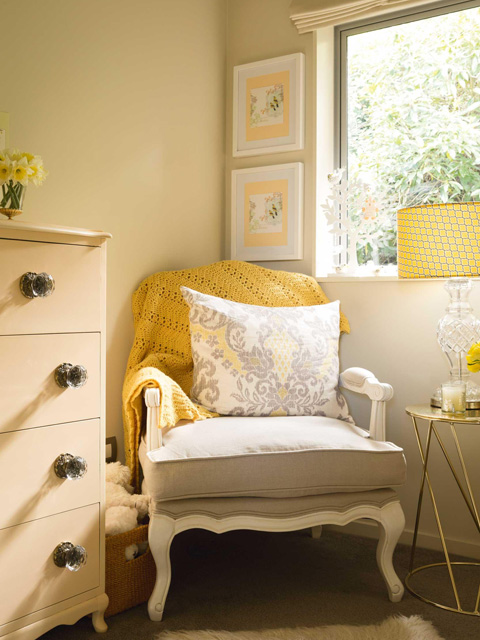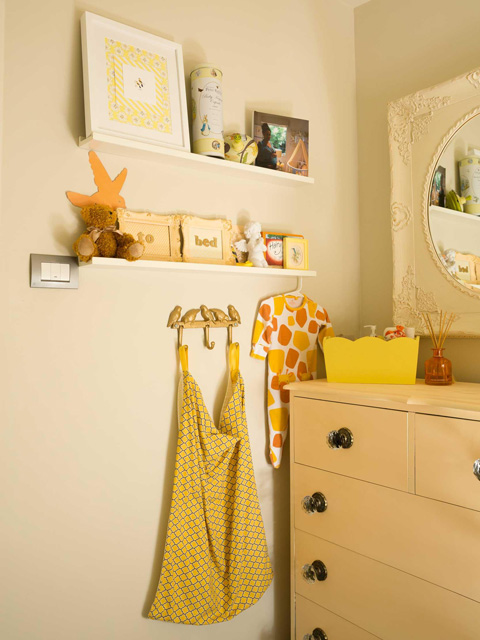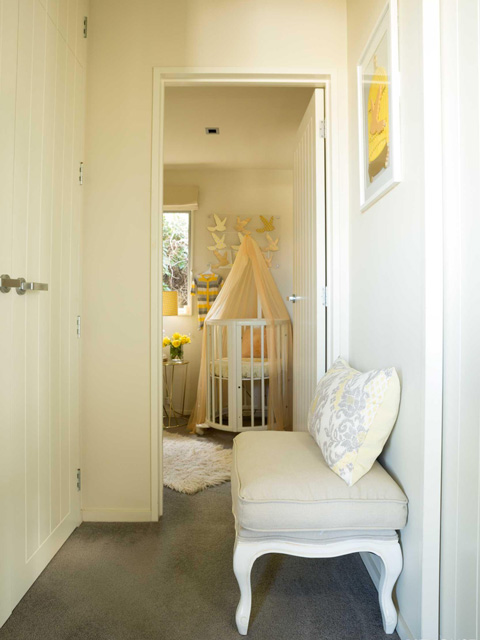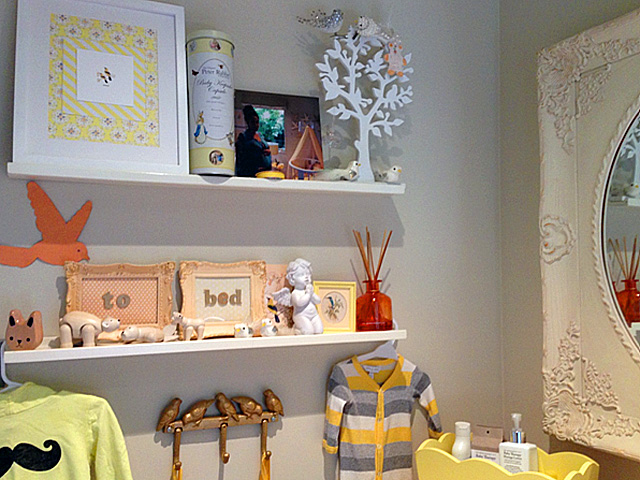 Small Space Design Tips
Make use of vertical space
Use dual purpose furniture where you can
Don't opt for small furniture
Try to keep some floor space clear
Avoid clutter by creating organised storage solutions
Try a layering effect with a tonal colour palette
Thanks for visiting and reading my blog. I will post a full list of where to source items and paint colours at a later date.
Talk soon, Tania x
Images NZ House & Garden