This is the second post in my Nice Nooks series, and I wanted to share with you my Workspace Nook. As we have a 23 month old camping out in our office at the moment I wanted to create an area where I could sit and work from but not take up valuable space or be a permanent fixture. Eventually the 23 month old will need more room and he will move into a bedroom downstairs, and we will have our office back, but for now he can stay put as I'm not quite ready to have him all the way downstairs! The beauty of a nook and one of the many reasons I am a little obsessed with them is they can be created anywhere and they can easily be repurposed, which really suits changing family dynamics, work requirements etc.
This nook is in our lounge and is less than a meter wide, it sits in between the pillar that houses our TV and fireplace and the entry into the hallway.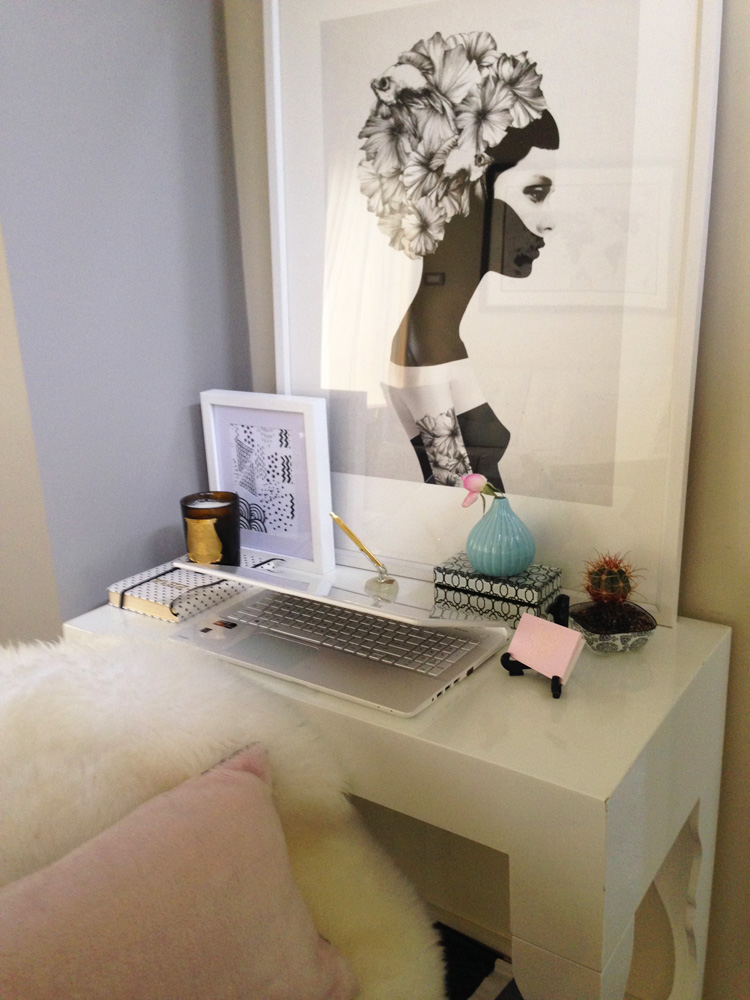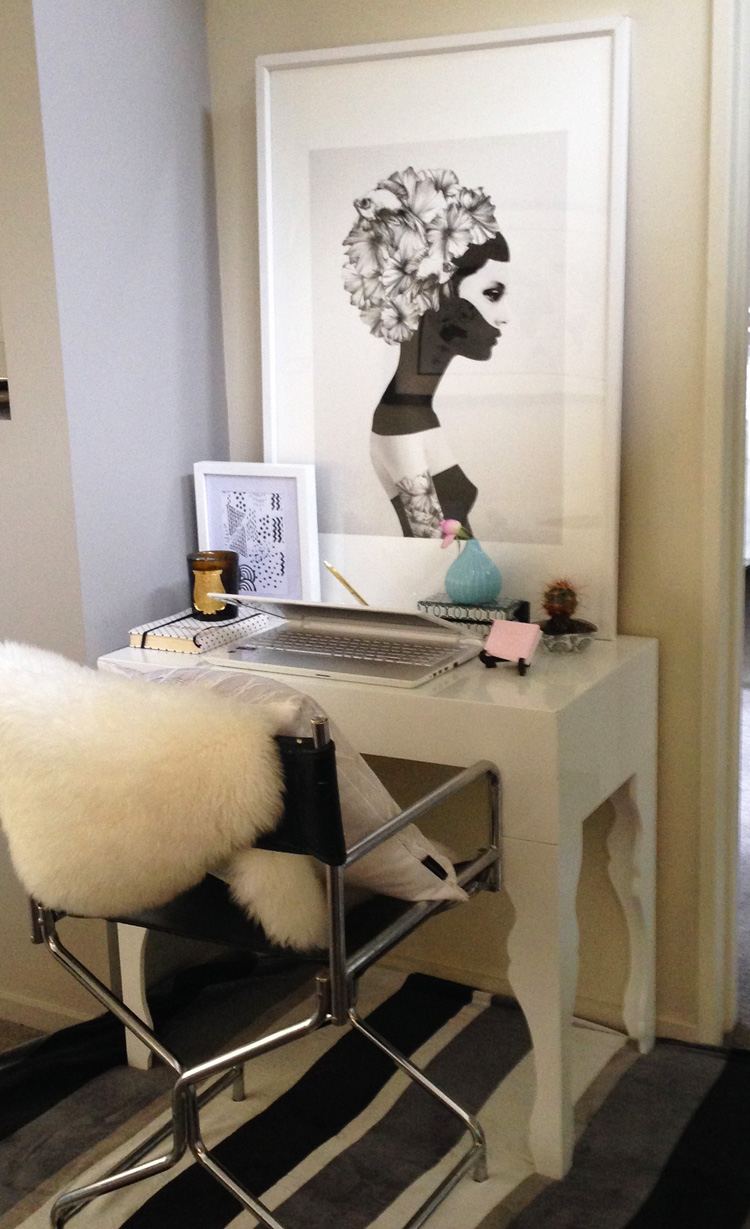 A rug is a great way to designate a particular area. I switched the chairs and cushion for this shot, because that is what I do.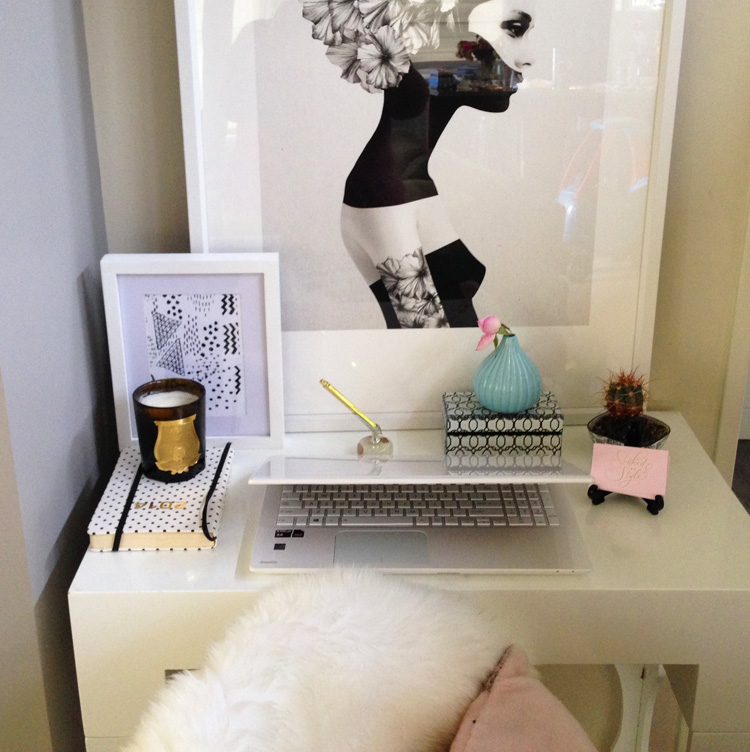 The table which doubles as a desk was already in this spot and housed books as well being a display table. By adding a chair, comfy cushion, laptop and interesting artwork it is easily transformed into a workspace that feels designated but still fits in with the rest of the room.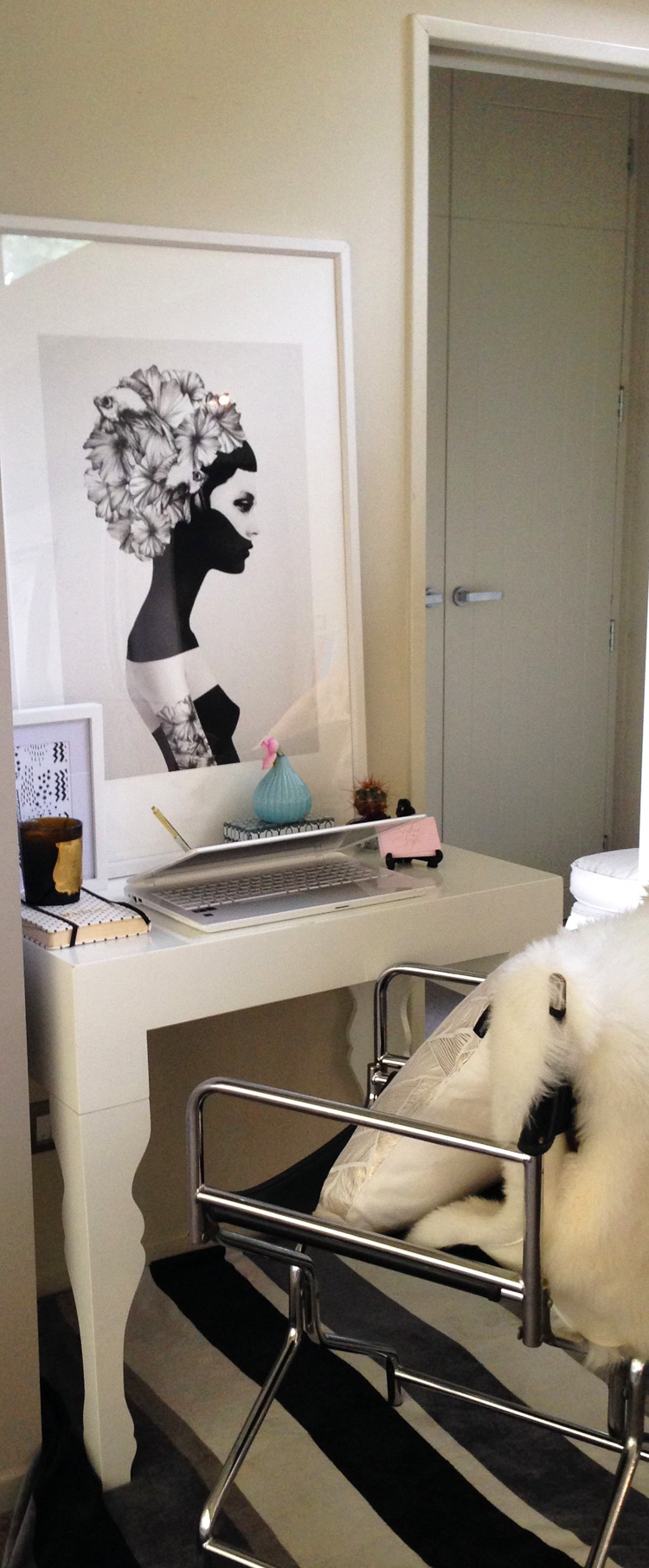 I know that sheepskin again! Yip it pops up all over the place, I do like a bit of fluff and it just makes such a comfy spot to sit in.
The large artwork is titled Marianna by Ruben Ireland @society6 , the small black and white abstract print Sweet William, Cire Trudon candle World beauty, 2014 Diary Kiiki K, gold pen Typo , vintage marble pen holder, table, chair and sheepskin trademe,  White and Gold cushion Villa Costa , Pink cushion is an old cushion hand dyed. Cacti and blue vase I have had for years they could practically be classed as vintage! Soaked in style business cards are sitting on a small plate stand. Have you got a workspace nook in your house? Tell me about it, email me a pic or  tag me in your instagram pics just hit the gold camera icon in my keep in touch icons to find me.
Talk soon, Tania  x